Perth's Safest Treatments
Family, Pet & Environmentally Friendly
Complete Customer Experience
From Start To Finish
Termite Management
Inspections, Treatment & Control
Weed Free Lawns
Starting From Only $165!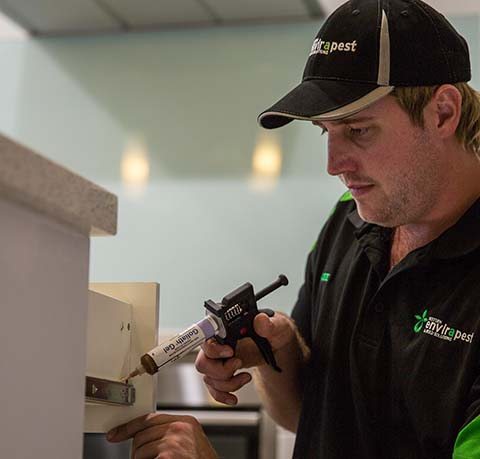 Perth's Safest Treatments
Family, Pet & Environmentally Friendly
Weed Control
Residential, Commercial & Rural
Complete Customer Experience
From Start to Finish
How Can We Help You Today?
I'm having problems with…
Providing Perth's Safest Environmental Termite, Pest & Weed Control Solutions
Envirapest are currently the highest ranked  pest control company in Western Australia for 2017/18 . Recently, Envirapest were awarded the prestigious title by our governing body AEPMA by placing 3rd Australia wide. Envirapest were recognized and honoured for customer safety, our technical innovations and our genuine environmental commitment. With over 15 years servicing Perth and all its surrounding suburbs, Envirapest has been able to separate ourselves from competitors with down to earth customer service and the cutting edge technology we incorporate with all our services. Whether yourself or business require environmental pest, weed, or termite management solutions – Envirapest are setting the standard.
Concerned About Termites – Don't be. We're here to help!
Finding termites in, or around your home can be a stressful situation – and for good reason. Unfortunately, most people are unaware that termite damage or activity is not covered under most home insurance policies. Therefore, engaging a company with the right tools, termite experience and expert knowledge is key. Envirapest provide all aspects of termite management combined with the latest termite detection technology for all our property inspections, baiting and monitoring systems, barrier treatments, and spot treatments.
Winning The War On Weeds.
We provide all aspects of weed control to Perth and greater WA. Weed management, weed spraying and weed identification are a passion here at Envirapest. So, if it's a weed, we know it & importantly, we know how to deal with it. We cover all shapes and sizes too. From small domestic lawn weeds to couch grass in the rose bed – we can help. Commercial business yards and office surrounds – simple. Hobby farms & rural properties – 1 to 500 acres? Not a problem. Bushlands & natural areas, sports ovals, schools, parks and government reserves? A walk in the park – literally. Nothing is too big or too small
Great business, great people. Get both our pest & lawn treatments done every year with them - would never use anyone else...
Ryan Graney
Great service. Very affordable. Laurence was very helpfully and efficient. Great costumer services at all levels. Would definately...
Sara Fernandez
I happen to be home early and they were able to send someone around within half an hour to inspect our home - so accomodating! Lee...

Liz Mah
Envirapest are a fantastic service. Always smiling and extremely helpful, would reccomend using them as they definately know what they...
T Munro
Envirapest is the best!!! Fantastic business with excellent customer service. Staff are amazing. We always use Envirapest for all our...
Jana Howrie
I have used Envirapest twice now very friendly and on time company , Got rid of all the couch in the garden beds and clover...
Adrian Criddle
Absolutely brilliant service from this company. Their solutions work, their people are knowledgeable, friendly, and approachable 🙂
Peter Hannay
Thanks Mark & Lee. Excellent service backed up by genuine experience, knowledge and friendliness can be hard to find these days.
Dan K
Fantastic and thorough service and a very knowledgable and friendly team. Highly recommend

Chantelle Magerl
Fantastic service, highly recommended
Holly Amesz
Envirapest is awesome! We have been clients for many years and continue to come back to them for the great customer service and...
Tashana Jones
Would not trust anyone else to look after my 1 acre property No bugs & No Weeds just us loving the hobby farm life ... Enjoy supporting...

Steven Kirkby
Absolutely wonderful service by the team. From the booking until completion of job. Everything explained in detail. We have pets...
Tash P
Great people do a fantastic job. Definitely recommend calling these guys they get the job done
Katy Wolyniec
We have used Envirapest for the past 3 years for our ants and spiders at our home in Bullsbrook. They always do a great job...
Claire Kelleher
Excellent service and Great people. Been using them for years. Highly recommended
Scott Beal
Thank you for your outstanding service Lee Drogemuller. I appreciate your prompt assistance in getting rid of an unwelcome pest in the roof.

Christo Visser
I have had the worst lawn forever. Not any more. These guys sorted out everything for me. Very happy with their work

Daniel Murphy